So I was happy to learn that I have received another award and even happier to nominate other bloggers for this fun game:)
These awards always give us an opportunity to share more with others.
And
...
has nominated me for this award:)
I want to thank Carol very much for thinking of me and
including me for this fun award.
If you haven't visited her, please do, she always has
something fun and interesting going on at her place.
She also cohosts a weekly blog hop with 4 other bloggers called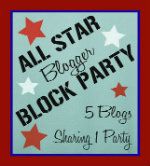 Which is an awesome party shown on 5 blogs at once for maximum exposure
As I was writing this post I learned that
Mary @ Back to Basics
also nominated me for this award. I am just so fortunate to have such great friends:)
Mary has two blogs that are both so informative concerning health and nutrition. She promotes getting back to the basic's by eating "real food". You can check out her other blog Mary's Kitchen for great healthy recipes:)
also check out her cookbook while you are there.
This is a very interesting award
because it has two titles and two pictures.
Carol and I have both wondered if at one time
this was two awards.
If anyone has any information please let us know,
I always love trivia!
Thank the person who nominated you and
link back to them in your post.
Share 7 things about yourself.
Nominate 15 bloggers you admire.
Leave a comment on each of their blogs letting
them know they've been nominated.