Welcome My Friends!!
First My Fabulous Five Faves!!!
Mixed Berry Sweet Rolls
@ A Sweet Baker
French Onion Roasted Cauliflower Soup
AKA Free Soup
@ Ms. enPlace
Champagne Fondue
@ Juggling Act
Swirly Earrings
(This is a fantastic tutorial with links to definitions and how-to's!)
@ NGNRDGRL
Chili Rellenos Tacos
@ Soup Spice Everything Nice
If you were chosen please don't forget to grab my featured button:)
I have been having some technical difficulties with my Featured Button but I do believe it's all fixed now, so if you missed the button or had some issues with it you can grab it here:)
Thanks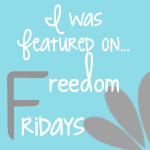 I will be Pinning, Tweeting and sharing on Facebook my Fabulous Five Faves throughout the week:)
What's missing, yeah it's those pesty little rules.
As I have mentioned before, I am retired from enforcing laws, rules etc.
So enjoy being my guest and have fun!
Let's see what ya got!!