Welcome My Friends!!
Lets get to my Fabulous Five Faves!!!
OK, I will confess, there's really six, lol
Not good at rules, remember:)))
If you were chosen please don't forget to grab my featured button:)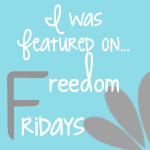 I will be pinning and sharing my Five Faves on Facebook all week:)
Have you entered to win this yet??
What's missing, yeah it's those pesty little rules.
As I have mentioned before, I am retired from enforcing laws, rules etc.
So enjoy being my guest and have fun!
Let's link up:)